Welcome to the Rail and Maritime Transport Union Online
The RMTU is a union for transport workers in which all members have equal rights, whatever their job.
With rapid change, and increasing competition in the transport industry it is important that workers are protected by a strong, well-resourced union, specialising in all aspects of the transport industry; rail, road and ports.
The structure of the RMTU gives you the opportunity to be fully involved in a democratic union as collective decisions are made which may affect your job and conditions of employment.

You have the opportunity to elect your workplace union representative (delegate), as well as branch and national union representatives. You have a voice at all levels of the RMTU.
---
Campaigns -
All Aboard - Stay Safe - insist on a Train Manager
For more information on this campaign - click here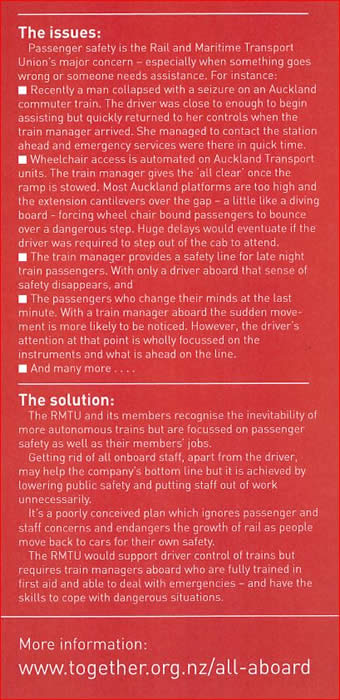 For more information on this campaign - click here
---
Save Our Electric Trains

The Greens are running an online petition -
"We request that the House of Representatives review KiwiRail's decision to replace its electric freight trains with diesel locomotives"
Click here to go to the petition
---
Latest Media Releases
Port Workers' Union Condemns Boss's "Excessive" Pay
Media Release Rail & Maritime Transport Union
Monday 11th December, 2017
The Rail and Maritime Transport Union (RMTU) says Lyttelton Port CEO Peter Davie's $955,000 pay packet cannot be justified and is symptomatic of a broken wage-setting system in New Zealand.
'We're in the middle of negotiations for a port wide collective agreement that covers cargo handlers, marine, maintenance and security staff and this news is slap in the face for those workers,' said RMTU South Island Organiser John Kerr.
Click here for full media release
Click Here for more RMTU Media Releases
---
SUPPORT AUCKLAND TRAINS

Click on the image above or here to sign the petition
---
RMTU / KIWIRAIL Health & Safety -
Click here to go to the RMTU / KIWIRAIL H&S page
---
Campaigns

Save Our Rail : Northland

Kia ora to everyone in the Rail and Maritime Transport Union

Just to let you know, Save Our Rail Northland's new web-site is: http://www.saveourrailnorthland.org.nz
We'll be adding to the site as things develop, so keep checking in to see where we're at.
Thanks.

Alan Preston
Tel (09)4315389

Also

Save the Gisborne Napier Rail Line

Click here to go to Facebook page

Books & DVD's of Interest

BLACKBALL 2008

A commemoration of the 1908 miners' strike on DVD

Review by Dean Parker - click here

To purchase a copy - click here

Samuel Duncan Parnell - A Legacy

The 8 Hour Day, Labour Day and Time Off

For more information including Foreward by Helen Kelly - click here