Welcome to the Rail and Maritime Transport Union Online
The RMTU is a union for transport workers in which all members have equal rights, whatever their job.
With rapid change, and increasing competition in the transport industry it is important that workers are protected by a strong, well-resourced union, specialising in all aspects of the transport industry; rail, road and ports.
The structure of the RMTU gives you the opportunity to be fully involved in a democratic union as collective decisions are made which may affect your job and conditions of employment.

You have the opportunity to elect your workplace union representative (delegate), as well as branch and national union representatives. You have a voice at all levels of the RMTU.
---
Workers Memorial Day 2021
On Workers' Memorial Day, we "remember the dead and fight for the living".
The RMTU was the first union in NZ to commemorate the day by organising events to remember all those killed through work but at the same time pledge to continue the fight to make sure that such tragedies are not repeated.
The international theme this year is "Safe and healthy work is every worker's right". Worksafe NZ estimates that 30,000 people develop serious but non-fatal work-related ill-health each year.
Please show your solidarity and support for the workers and their families who've been cruelly affected by a workplace death, injury or ill-health.
Events will be occurring around the country on 28 April.
Please advise the RMTU National office about your Branch's planned Workers Memorial Day event.
---
Latest Media Releases
Rail union says urgent changes required to Te Huia commuter rail service
Rail and Maritime Transport Union media release
Wednesday 14th April 2021
The union representing rail workers says the new Te Huia commuter rail service between Auckland and Hamilton is a great concept – but needs to tweak its operating model.
Rail and Maritime Transport Union General Secretary Wayne Butson says Te Huia needs to pick up passengers at intermediate stations in order to build passenger numbers and provide a proper service to the area.
He says new stations must be built at Te Kauwhata, Pokeno and Tuakau right away.
The RMTU is urging the Minister of Transport to intervene and get KiwiRail, local Government and NZTA to work on reconfiguring the service, says Mr Butson.
"This needs to be fixed in a hurry. It would be disastrous if a great, forward thinking concept like Te Huia is undermined by a flawed rollout."
Mr Butson says journey times will eventually be quicker, but in the meantime Te Huia had to be made available to large numbers of potential users along the route who were currently denied that option.
He says extending the service to run further north of Papakura to Otahuhu would make more sense in reducing travel times and improving connectivity.
Mr Butson says commuter rail is an urgently needed solution to congestion, carbon emissions, and a more effective modern transport system.
ENDS
For more information, contact Rail and Maritime Transport Union National Secretary Wayne Butson on 0274962461
Click here to download this media release
Rail Union calls for Dunedin Council to 'Do the right thing' and keep Dunedin Railways Rolling
Rail and Maritime Transport Union media release
Sunday 11th April 2021
The union representing rail workers is calling upon Dunedin City Council to do the right thing at its meeting on Tuesday 13 April when it decides on the future of Dunedin Railways.
Rail and Maritime Transport Union (RMTU) General Secretary Wayne Butson says the RMTU led the recent Keep Dunedin Rail Rolling campaign, with the support of Unions Otago and a large number of people in the community.
"Our union backed the successful Trains not Planes initiative in running excursion trains over the summer which has gained the support of local businesses and proved a real winner with the public."
He says Dunedin City Council have a number of options before them on Tuesday, and the RMTU are calling on them to choose the boldest option and retain the rail service both on the national network and through the iconic Taieri Gorge.
Mr Butson says this option will require investment but the economic benefit to the city will amply reward this.
"The Trains not Planes excursion services have proved an outstanding success with many sold out. Two thirds of tickets sold were to passengers from Dunedin. With our borders opening up as the threat of the global pandemic recedes, the potential demand from overseas tourists will only increase."
Dunedin Railways has the potential to return to its status as a major attraction that will bring much needed money into the city, he says.
Mr Butson says he understands a commercial operator has expressed interest in operating a tourism rail service out of Dunedin and the RMTU was confident its members could work with any potential investor to make the venture a success.
ENDS
For more information contact Rail and Maritime Transport Union General Secretary Wayne Butson on 0274 962461
Click here to download this media release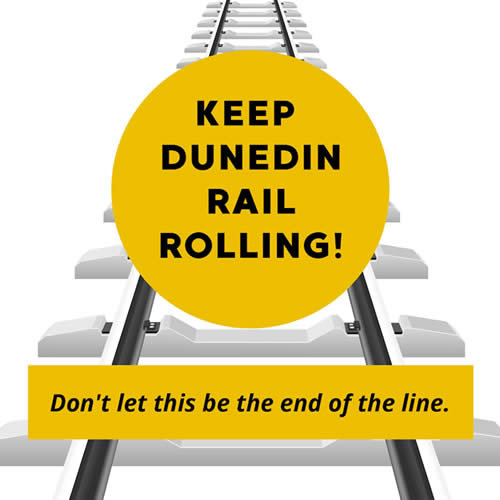 Keep Dunedin Rail Rolling - Petition
Dunedin Workers Proposal - click here
Keep Dunedin Rail Rolling Facebook- click here
Keep Dunedin Rail Rolling Blog - click here
Railway workers protest mothballing of Taieri Gorge
Taieri Gorge workers marched through Dunedin streets to deliver the mayor a letter this morning. Tuesday 2 June 2020
City Council backing Dunedin Rail commuter trial
Keep Dunedin Rail Rolling media release Friday 15 May 2020 - click here to download media release
Workers at Dunedin Railways step up fight to protect services and jobs
Friday 8th May 2020
Workers at Dunedin Railways Limited are disappointed and angry that their Board and Senior Management are continuing to push a low quality plan putting the future of the Taieri Gorge Railway and other local services in jeopardy.
DRL management today announced they would proceed with a "mothballing" plan that would effectively close the service with no guarantee of re-opening.
Rail and Maritime Transport Union Otago Branch Secretary Dave Kearns says the plan to mothball Dunedin Railways, including the iconic Taieri Gorge Railway, was unacceptable.
"The mothballing proposal is vague and meaningless, and the consultation process has been totally inadequate for a decision of this magnitude."
A proposal with positive alternatives had been submitted to DRL and presented to Dunedin City Council, and workers had taken their concerns to local MPs.
Mr Kearns says after workers first found their jobs were in jeopardy through the media, their faith in the process had been shattered.
He says there is an agenda at the Board level to run down and close the business, which had been their first preference.
However, workers are determined to fight for the jobs and keep Dunedin Railways rolling, he says, with strong community backing emerging around the Keep Dunedin Rail Rolling campaign.
A Facebook page Keep Dunedin Rail Rolling had gained 1600 likes and a petition to stop the mothballing plan had gained over 1500 signatures in the last several days.
ENDS
Click here to download this Media Release
Dunedin Railways workers propose positive solutions to prevent closure

Thursday 30th April 2020
Workers at Dunedin Railways Limited (DRL) have put forward a proposal to reinvigorate the company, retaining the iconic Taieri Gorge Railway and saving up to 70 jobs.

Rail and Maritime Transport Union Otago Branch Secretary Dave Kearns says the union, representing about fifty workers at Dunedin Railways, has today submitted the proposal (attached) as part of the consultation process with management.

Dunedin Railways is 100% owned by Dunedin City Holdings Limited, the business arm of the Dunedin City Council.

Mr Kearns says the DRL Board of Directors had a 'negative mindset' and had recommended closing the railway to the Dunedin City Council, blaming falling revenues due to the COVID19 pandemic.

Dunedin City Councillors had voted to mothball the railway instead, but Mr Kearns says he is concerned that they have not been given the correct information about how this would work.

'The DRL plan is meaningless as it is so lacking in detail. This raises questions regarding the competence and fitness of DRL's board and senior management.'

Mr Kearns says there are a number of opportunities for rail services that have been ignored.

Options included the reconfiguration of the business away from the cruise ship market to the domestic market.

There was potential for staff and rolling stock to provide commuter services to local destinations such as Mosgiel and Port Chalmers, as well as the establishment of long distance passenger services between Dunedin and other cities on the main south line.

Other possibilities included the sale or transfer of ownership of the Wingatui to Middlemarch line to KiwiRail, with DRL to operate like other heritage rail concerns and pay a fee for track access whilst refocusing their business.

The Union was calling for genuine engagement by DRL management with staff and their union to investigate alternative options for the future of DRL, he says.

Regarding the DCC's request for 'options for DRL's operating and governance structure in the interim', the RMTU is calling for the immediate dismissal of the current board and the appointment of a new board with staff representation.

Mr Kearns says a Facebook page Keep Dunedin Rail Rolling had gained over 1200 supporters this week.

ENDS

For more information contact Rail and Maritime Transport Union Otago Branch Secretary Dave Kearns on 0278893292
OR
Rail and Maritime Transport Union South Island Organizer John Kerr on 027 246 4941
Click here to download this Media Release
Click here to download more Media Releases
---
RMTU / KIWIRAIL Health & Safety -
Click here to go to the RMTU / KIWIRAIL H&S page