Nominations for The National Management Committee Call Result - 2017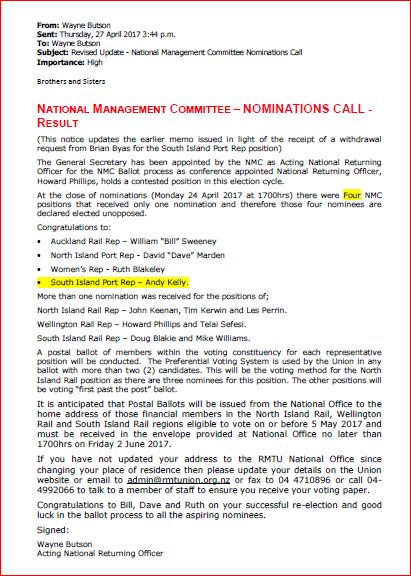 Click here or on the image above to download the NMC Nominations Call result UPDATE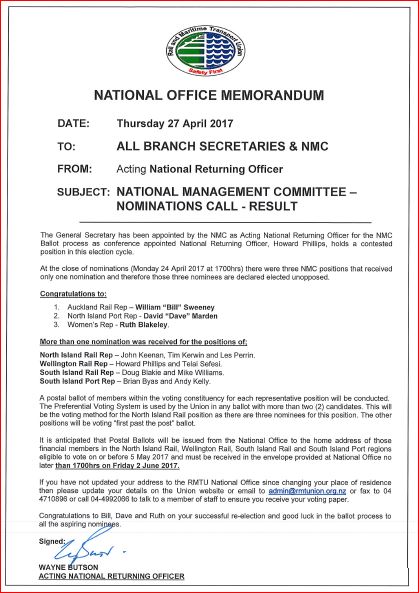 Click here or on the image above to download the NMC Nominations Call result
Nominations for The National Management Committee – April 2017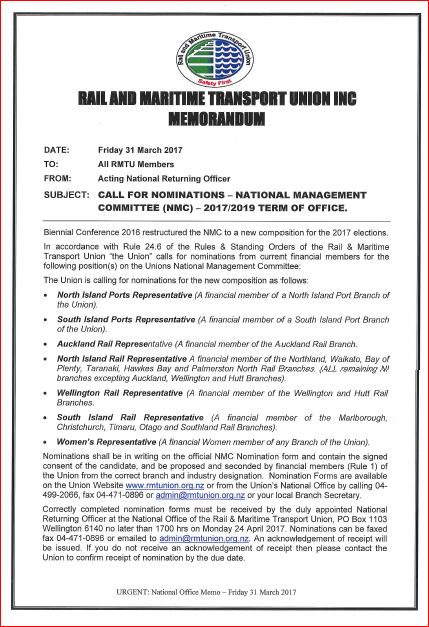 Click here or on the image to download the NMC Memorandum
Click here to download the NMC Nomination form
---
National President Ballot Result 2017
Click here or on the image above to download reult memo
Nominations for The National President Position – 2017
Brothers and Sisters
The Union called for nominations for the above position closing at 0800hrs today (Friday 24 March) 2017.
At the time of closing two correctly completed nominations had been received. As a result a national postal ballot of all members will be conducted. Ballot papers will be issued once printing, numbering and envelope stuffing has been completed.
The two nominees are;
Kasia Kurene – Hutt Workshops Branch, and;
Aubrey Wilkinson – Bay of Plenty Port Branch.
I wish both candidates a good contest.
In unity
Howard Phillips
National Returning Officer
National President Nominations Called
In accordance with Rule 24 of the Rules & Standing Orders of the Rail & Maritime Transport Union nominations are hereby called from current financial members for the position of National President.
Nomination Forms are available on the Unions Website www.rmtunion.org.nz or from the RMTU National Office on 04-499-2066, fax 04-471-0896 or admin@rmtunion.org.nz.
Nominations shall be in writing using the correct nomination form, contain the signed consent of the candidate, and be proposed and seconded by financial members (Rule 1) of the Union.
Correctly completed nominations must be received by the National Returning Officer at the National Office of the Rail & Maritime Transport Union, PO Box 1103 Wellington 6140 no later than 0800 hrs. on Friday 24 MARCH 2017.
The term of office is 2 years (Rule 24.2) and the duties are as contained in Rule 27 of the Union's Rules and Standing Orders.
For the information of members it is advised that the incumbent will be seeking re-election.
In the event there are two or more nominations received, a postal ballot will be issued from National Office the week commencing Monday 27 March 2017. Please ensure you have updated National Office with your current mailing address on the Unions Website www.rmtunion.org.nz.
In Unity
Howard Phillips
National Returning Officer
Click here or on the image above to download notice
Click here to download National President Nomination Form
---
RMTU National Nominations - Update March 2016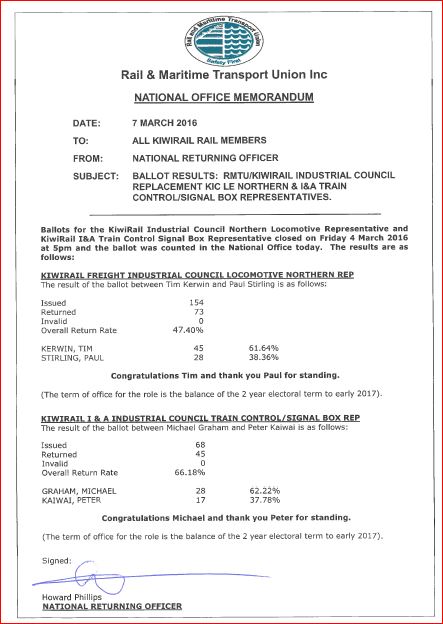 Click here or on the image above to download notice
update February 2016
Click here or on the image above to download notice
---
RMTU National Nominations 2015
KiwiRail Industrial Councils - Results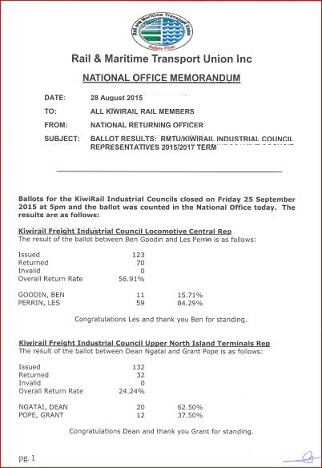 Click here or on the image to download the full results
Howard Phillips
NATIONAL RETURNING OFFICER
---
National Management Committee Elections 2015 - Result
Click here to download the RMTU National Office Memorandum on the NMC Ballot result
---
General Secretary - Result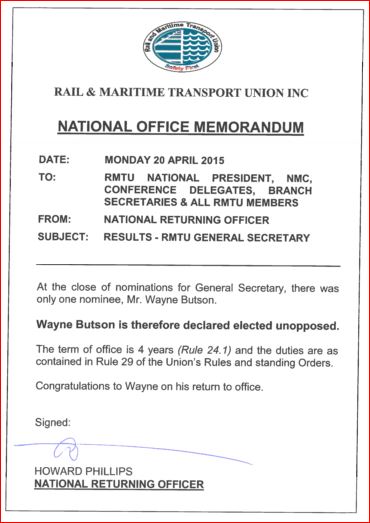 Click here or on the image to download the National President result notice
---
President - Result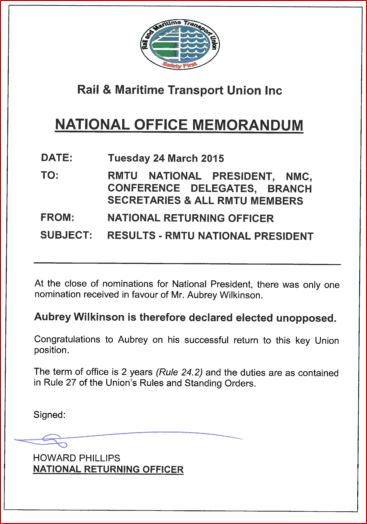 Click here or on the image to download the National President result notice
---